The Masonic Conference Center – Patton Campus is located on just over 20 acres of beautiful hillside property in the heart of Lancaster County, PA. The facilities include an indoor gym, outdoor tennis courts, a half-Olympic sized indoor pool, a state-of-the-art multimedia center, and a variety of styles and sizes of meeting rooms.
We can host up to 162 overnight youth and chaperones, in rooms housing from 2 to 6 people. All campus buildings are air-conditioned, and guest rooms have independent thermostat controls and private baths. This isn't your average summer "camp," kids!
The Masonic Conference Center is located on the grounds of the former Thomas Ranken Patton Masonic Institution for Boys, and was renovated in 1983. It was designed for the use of Pennsylvania's Masonic youth groups, and to serve as home to the Pennsylvania Youth Foundation. Adult Masonic organizations, and substance abuse prevention groups hosted by the Pennsylvania Masonic Foundation for Children, began to use the facility with more frequency. Another extensive renovation in 1998 upgraded the housing and conference facilities to meet adult comfort requirements. With the merger of the two previous foundations, the facilities continue to be used for both youth and adult programs
The campus of the Masonic Conference Center ("Patton Campus") is unparalleled anywhere! The grounds are immaculately landscaped, and set in a beautiful country farmland setting. You'll find the buildings to be an ideal blend of historic charm and modern comforts. You don't have to be here for very long to know why so many Pennsylvania Youth love to call this campus their "home away from home." These outstanding facilities include: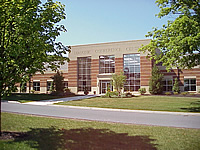 The main Conference Building, Memorial Hall houses most of the Center's meeting space, the dining room, gym, registration center, and many of our guest rooms.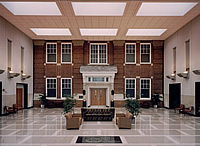 The Robert F. Stark Atrium
Provides a striking welcome to guests… it is part of the newest addition to the campus, completed in 1998, and is the frequent site of dances, socials, and large-conference registration.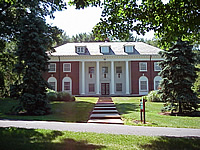 Historic Ranken Hall contains a small amount of classroom space and many additional guest rooms. The picturesque columned porch is a favorite location for youth conference group photos.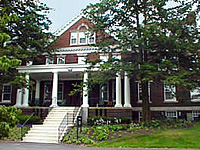 In addition to guest rooms, classroom space, and a professional "board room" conference space, Patton is home to the offices of the Pennsylvania Masonic Youth Foundation.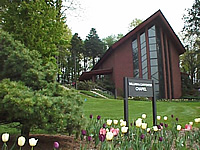 A beautiful modern structure with a striking full-front stained glass window, the Chapel is equipped for services of various faiths. Most of our youth groups hold inter-faith services while staying on campus.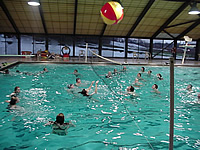 This beautiful half-Olympic (6 lane, 25 meter) pool is enclosed and heated for year round usage. In warm weather, sliding doors and a retractable roof make it into a great place to cool down from the afternoon heat.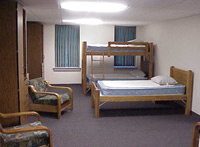 Rooms at the Center house from 2 to 8 guests, with individual closet and dresser space, a private bath for each room, and independent air-conditioning/heat controls. Linens and towels are provided.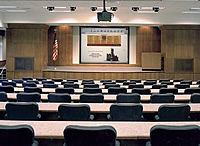 Williamson Multimedia Center
Named to honor the founder of the PA Masonic Youth Foundation, this high-tech media center seats just under 100 and is equipped for large screen projection and digital surround sound.