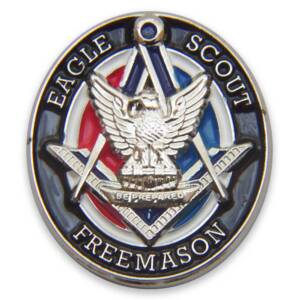 At the request of R. W. Grand Master S. Eugene Herritt, the Pennsylvania Masonic Youth Foundation, in cooperation with the Boy Scouts of America's National Eagle Scout Association, has designed and created a lapel pin which can be worn by ANY Freemason who earned the Eagle Scout Award as a youth. These are available exclusively from the PA Masonic Youth Foundation, because of our careful and faithful administration of the Daniel Carter Beard Masonic Scouter Award since 2002.
To receive a pin, you must fill out the application found below, send a copy of your current year Blue Lodge dues card, and a copy of any documentation proving that you are an Eagle Scout. This could be your Eagle Scout Certificate, Eagle Scout Wallet Card, National Eagle Scout Association Membership Certificate or card, or anything else issued by the Boy Scouts of America signifying this achievement.
There is a $10.00 fee, payable by personal check, to "PA Masonic Youth Foundation" to cover the cost of designing, manufacturing, processing, packaging and mailing the pin.
Mail check, application, and documentation to:
PA Masonic Youth Foundation
1244 Bainbridge Road
Elizabethtown, PA 17022
Please note that we do NOT accept electronic payments or submissions.
We will only issue one pin per person.